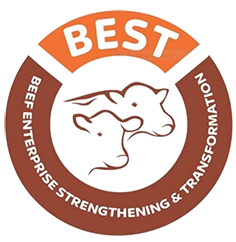 The Beef Enterprise Strengthening and Transformation (BEST) project is being implemented in five provinces of Zimbabwe. World Vision Zimbabwe is partnering with Welthungerhilfe (WHH), Sustainable Agriculture Technology (SAT), Livestock and Meat Advisory Council (LMAC) and Zimbabwe Agriculture Development Trust (ZADT). The project seeks to create a robust, competitive beef value chain that promotes enhanced trade, employment creation, food security, and inclusive green economic growth by 2023 for 25,000 small to medium as well as commercial cattle farmers.
Sustainable private sector partnerships with beef farmers is the main activity, hence the participation of Sabie Meats, Montana Carswell Meats, Outback Safaris Balu Pecan and Livestock Company, and Nurture Finance (NF) among others.
The key strategy for the project is the establishment of Cattle Business Centers (CBCs) managed by the private sector. The CBCs are creating hubs of production, extension and marketing activities for beef farmers who will access input and output markets, financial and reproductive services, fodder production and husbandry training. A total of 10 main CBCs with 50 satellites are planned. The Balu CBC in Umguza district, Matabeleland North province and the Lapachi CBC in Mwenezi district, Masvingo province, will have irrigated pastures under centre pivots.
In view of the continued rising stock feed costs for supplementing beef cattle during perennial dry spells, the Beef Enterprise Strengthening and Transformation (BEST) project started an initiative to demonstrate forage and fodder production using the lead farmer extension approach. Forage crops have been widely promoted to provide feed resources to livestock, particularly during the dry season and in years of low precipitation.

(Left) Centre pivot installation on a 35-hectare plot and cattle holding pens under construction at the Lapache CBC.
Other interventions seek to enhance the policy environment to reduce compliance costs, formulate a National Beef Strategy, establish the Zimbabwe Beef Producers Association and an online Livestock Information Management System. In addition, through the Nurture Finance model, beef producers will have access to genetically superior heifers and bulls through live importation of cattle.

Project Resources
Listen to the Podcast providing details about the BEST project.
Coming Together for the Greater Good: Mathambo Cattle Business Centre
Fodder Production: A Response to Climate Change
Lead Farmer Extension Approach Widens Adoption of Growing Fodder Crops
Zimbabwe Beef School - 2019 Edition
Hope Restored for Makoni Smallholder Farmers During Formal Cattle Sales
Centre Pivot Irrigation Equipment Delivered at the Balu Cattle Business Centre
European Union Ambassador Tours the Balu Cattle Business Centre
Social Media