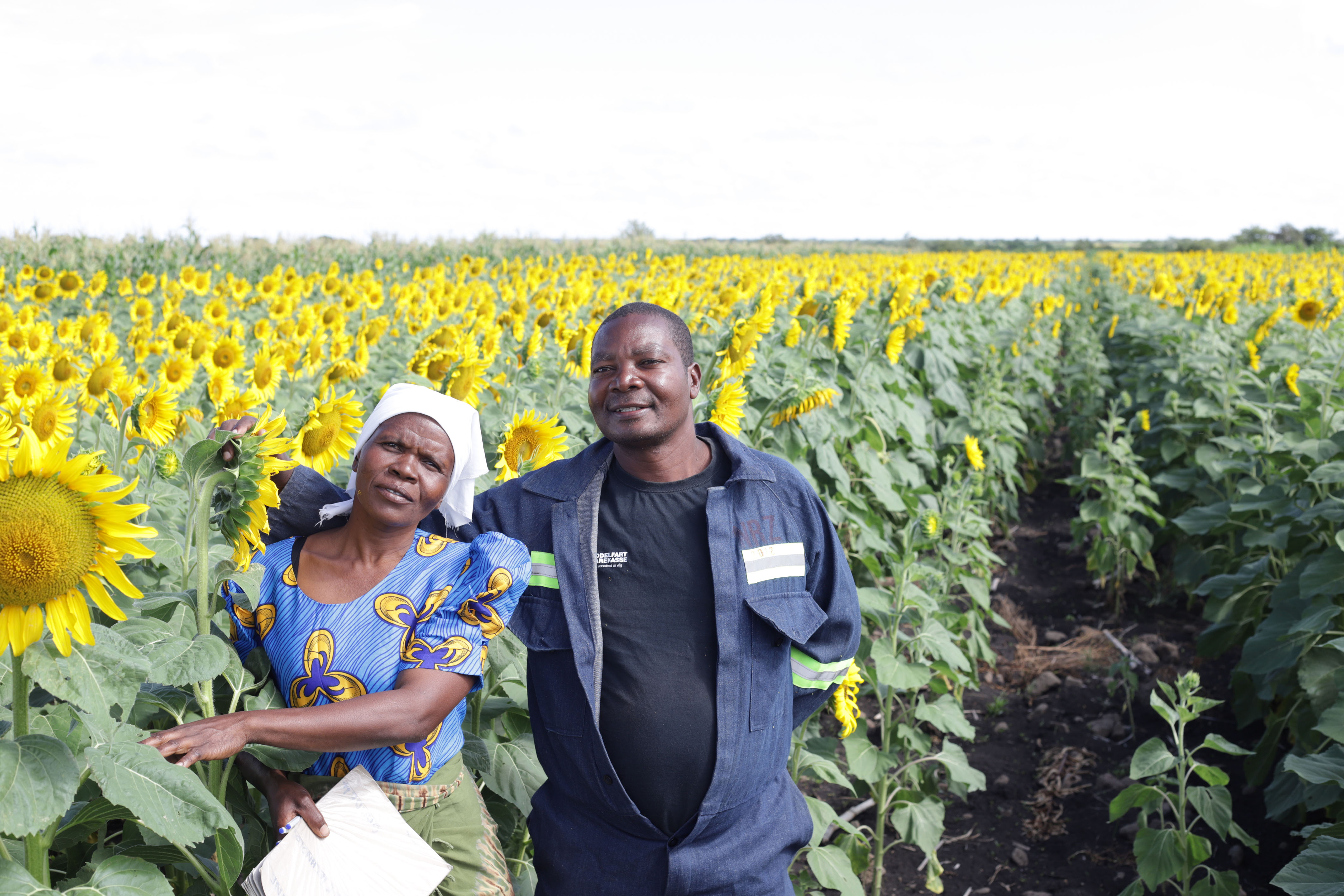 Nickson Dube and his wife Sikhangele. Dube is one of the selected lead farmers mentoring 10 other farmers including women and youths.
Nickson Dube, a 53-year-old farmer in Ward 17 in Gokwe South district, growing fodder for his beef cattle was quite unimaginable. Dube represents a new breed of livestock producers who have ventured into the production of previously unknown nutritious cattle-feeding fodder crops.
For years, Dube who owns a herd of 35 cattle, has grappled with rearing his livestock in a marginal area with low rainfall and therefore poor forage production, leading to low productivity.
In view of the continued rising stock feed costs for supplementing beef cattle during perennial dry spells, the BEST project started an initiative to demonstrate forage and fodder production using the lead farmer extension approach.
Forage crops have been widely promoted to provide feed resources to livestock, particularly during the dry season and in years of low precipitation. However, production of forage crops among the smallholder farmers remains low, especially in areas that receive low rainfall.
The BEST project procured fodder seeds for velvet beans, sun hemp, lablab, cow peas, Katambora Rhodes grass, sorghum and Sabi panicum. The seeds were distributed to 10 selected lead farmers in the BEST targeted districts who were prepared to work with at least 10 other farmers in a farmer to farmer extension approach.
These seeds were used to establish fodder demonstration plots as knowledge transfer hubs. Dube is one of the selected lead farmers mentoring 10 other farmers including women and youths. Together, they have formed the Sizani farmers' group and have planted at least 1.8 hectares of sorghum, 0.6 hectares of velvet beans, 0.1 hectares of lablab, 0.2 hectares of sun hemp, 0.1 hectares of cowpeas and 2 hectares of sunflower.
Despite the low rainfall received to date in the district, most of the fodder crops have survived and are now at flowering stage.
Showing his cattle in a pen just a stone's throw from his homestead, it is evident that Dube is a passionate livestock farmer as shown by with a herd with a good body condition score.
"It's my first time to grow fodder for my cattle. Previously, I would leave my cattle to graze in depleted rangelands, which have insufficient food for them", he said.
Gokwe South district, like most communal areas in Zimbabwe, is experiencing poverty related cattle deaths as a result of the effects of climate change. Consequently, farmers like Dube are receiving poor returns after selling their cattle due to poor body condition.
"As farmers, we are being forced to sell our cattle for as low as US$50 to middlemen who proceed to sell them on to unlicensed abattoirs and butcheries", said Dube.
Through assistance from BEST, Dube and many other farmers in Makoni, Buhera, Shurugwi, Mount Darwin, Gokwe South, Kwekwe, Lupane, Umguza, Mwenezi and Chiredzi districts have grown fodder crops to feed their cattle during dry season. As part of the lead farmer extension model, group members gather and assist with labour at the demonstration plot. In return each member will receive fodder seeds for their own use in the coming season and some hay bales for their animals. BEST is working with local extension personnel offering technical advice and mentorship to the farmers. The demonstration plots will also benefit surrounding farmers and communities who will draw lessons from them.
"This project has opened our eyes through the trainings that have been given to us. Come the lean season, my cattle will not starve even when there is no grazing left in the rangelands. I already have plans to use the harvested crop to make low cost feed formulations and I also intend to fatten a few steers for the market as well as to do priority feeding. This will ensure that we fetch lucrative prices for our animals on the market," said Dube in conclusion.
The key focus is on commercialising beef production in Zimbabwe for improved productivity and increased overall contribution to national economic growth.