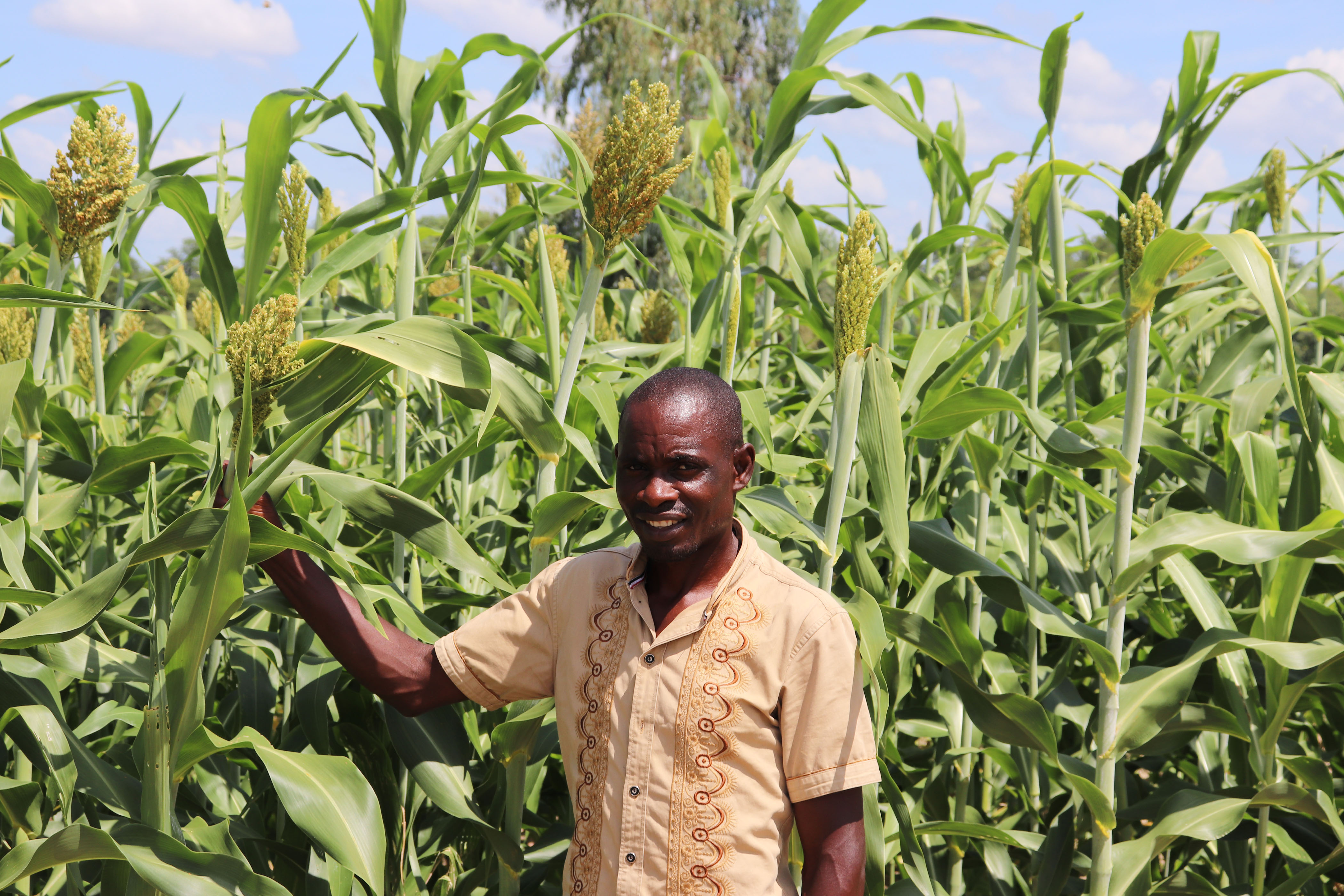 Oliver Chimwendo showing the sorgum crop he has grown as supplentary feed for his goats.
Revelling in his blossoming goat herd, Oliver Chimwendo of Mudzi district, Ward 2 in Mashonaland East province is a man on a mission. With just over a year since he began goat rearing, it is a marvel that Chimwendo has already grown to be one of the leading goat farmers in the district. He speaks of his journey so far with pride and great expectation for the future.
"I have always had a passion for goats and began this project in 2018 and I now have a 208-goats consisting 152 does and three bucks. I recently sold 50 in December 2019 and used the proceeds to erect a fence around the goat pens and also bought vaccination drugs. My greatest desire is to see the growth of goat producers in my area."
Chimwendo was selected to be one of the 1000 anchor farmers under the Value Chain Alliance for Livestock Upgrading and Empowerment (VALUE) project and will have an opportunity to contribute to the growth of goat production by leading small and medium scale goat producers in his area towards the goal of commercialisation. In an area like Mudzi, a drive towards commercial goat production is not without its challenges, due to rampant retreating of veld, scarce water sources and unviable markets.
"Since embarking on goat production, one of the challenges I have faced is struggling to find adequate forage, supplementary feed for the goats coupled with shortages of water, use of inferior genetics and lack of access to viable markets as well as high costs of veterinary drugs" says Chimwendo.
On the back of these binding constraints in goat production, the project comes in as a breath of fresh air, raising the hopes and expectations of farmers like Chimwendo across the target districts.
In a bid to commercialise goat production for smallholder farmers, the project has begun undertaking commercialisation trainings at district and ward levels. At the onset of the 2019/20 farming season, Chimwendo participated in trainings on commercialisation where various topics such as accessing viable markets, good farm management and fodder production were conducted.
For the first time in his goat enterprise, Chimwendo planted over three hectares of fodder plants for the purpose of providing supplementary feeding for his goats. The plants consist of sunflower, sorghum, sun hemp, velvet bean and cow peas.
Having already purchased a grinding mill, Chimwendo is looking forward to supplementing his goat herd to improve their live weights. He has made a commitment to cascade the trainings he has received and invite other farmers in his producer group to learn and benefit from his experience.
"I am grateful for the trainings that I have received and am looking forward with hope and expectation to fully commercialising my goat enterprise through participation in the VALUE project", added Chimwendo.