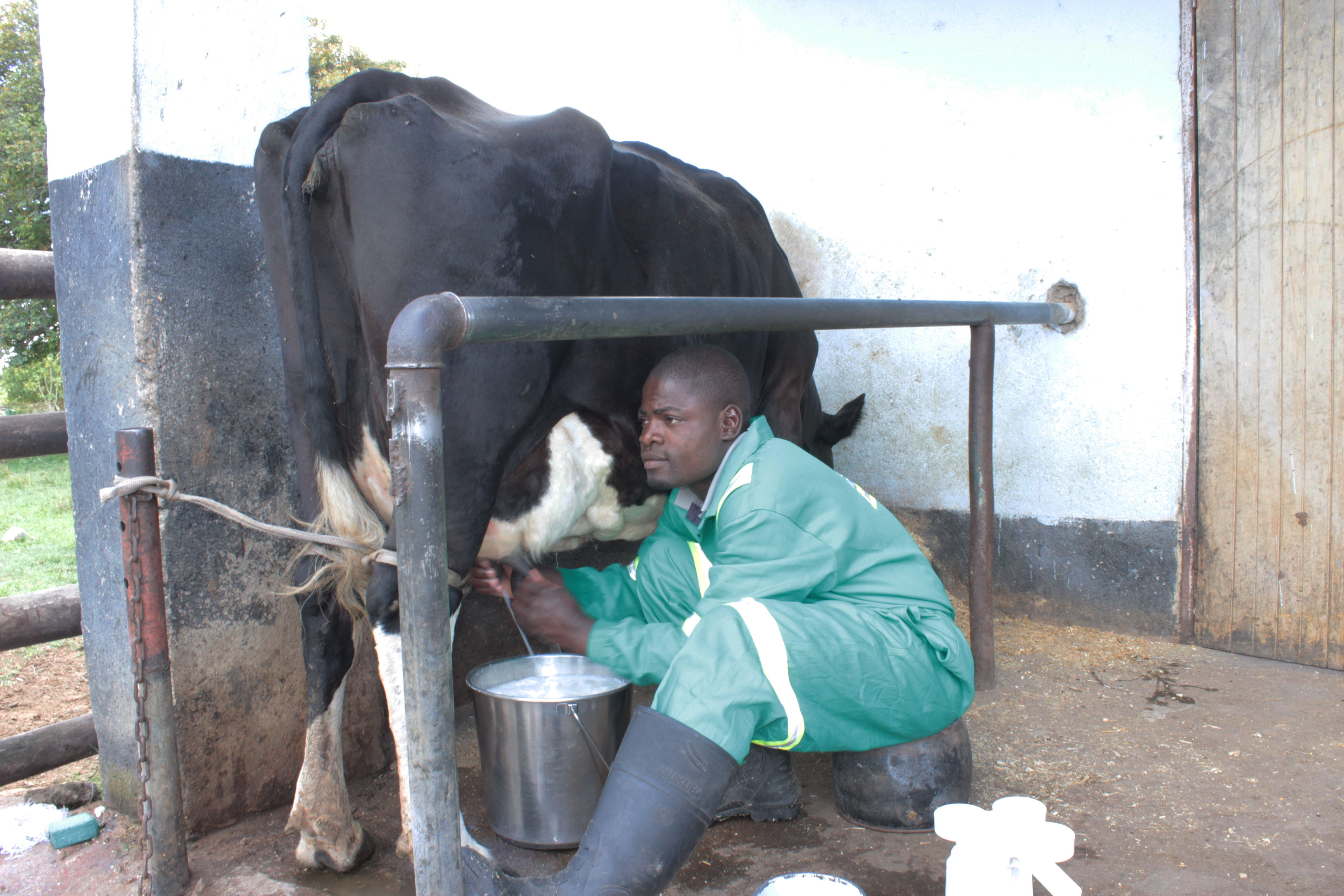 Procurement of milking machines through matching grants will ensure more efficient operations for dairy farmers still using manual milking methods.
The Transforming Zimbabwe's Dairy Value Chain for the Future (TranZDVC) project is implementing a matching grants facility (MGF) for investments in productive assets to improve the performance of the dairy value chain in Zimbabwe. The purpose is to support investments to increase milk production and milk sales, participation by small-scale farmers in the dairy value chain, greening of manufacturing and production processes, decent job creation and local production of affordable feed. The facility is limited to capital investments in productive assets such as machinery, equipment and buildings and does not include finance for working capital and services.
The matching grants have been categorised into the following windows:
Large-scale dairy processors and dairy farmers are eligible to submit co-finance proposals that aim for establishment of out grower schemes that are targeting small-scale farmers, especially women and young farmers, with a current milk production below 200 litres per day. The MGF will cover 50% of a capital investment cost not exceeding USD92,000 per scheme.
Small and medium-scale processors and/or farmer owned milk collection centres are eligible to submit co-investment proposals that improve the performance of their businesses. The MGF will cover 70% of a capital investment cost not exceeding USD16,200.
Within this window small-scale dairy farmers (with a milk production not exceeding 200 litres per day), and feed entrepreneurs are invited to submit co-investment proposals that improve their farming business performance. The MGF will cover 70% of a capital investment cost not exceeding USD 3,200.
TranZDVC has awarded the grants to the following beneficiaries:
Window 1 - USD92,000 (50:50 match)
Magure Farm Private Limited (Hwedza district)

Wonderklip Private Limited (Chikomba district)

Portelet Estates (Chinhoyi district),

F.J. Barry and Company (Mutare district),

Red Dane Farming (Harare South district)
Window 2 - USD16,400 (70:30 match)
Celestial Delights Private Limited (Chinhoyi district)

Red Tractor Farm (Bulawayo district),

MilkZim FoodNet Private Limited (Mhondoro district)

Rusitu Small Scale Dairy Association (Chipinge district)

Sadza Masasa Dairy Milk Collection Centre (Chivhu district)

Hamaruomba Dairy Cooperative (Masvingo district)

Gokwe Dairy Association (Gokwe district),

Marirangwe United Bush Dairy (Mhondoro district)
The assets applied for include agricultural equipment such as tractors, disc harrows, planters, slashers and silage cutters.
Also covered are solar boreholes, centre pivots, irrigation equipment, cold rooms, cooling tanks, delivery trucks, spray races, milking cans, sausage filling machines and milking machines.
To assist in own feed production, the beneficiaries have included feed mixers, balers and forage choppers. For the MCCs the grants will finance construction of building and a processing plant.
A key project component is the implementation of renewable energy solutions. To cover this, some of the applicants applied for solar systems to power dairy operations and solar powered boreholes. Other investments include milk analysers, extruders, oil expellers and packaging machines.
Procurement of the productive assets has commenced and the project targets to have procured all the assets by March 2020 Shortlisting of 125 beneficiaries for Window 3 is in progress. Additionally, TranZDVC will be hosting a gala for all 2019 matching grant beneficiaries in February 2019.