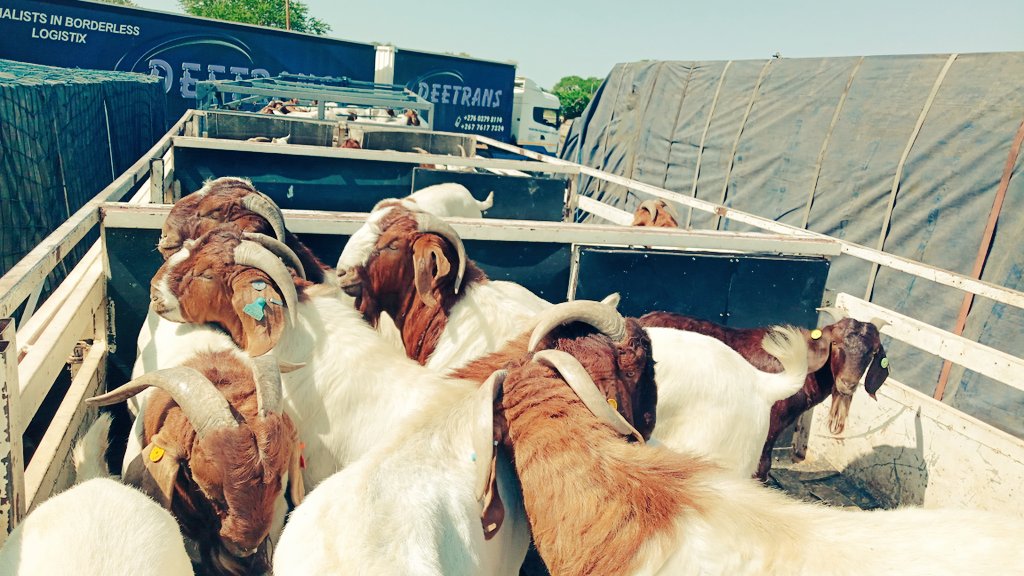 The project goat breeding stock was received and delivered to Matopos Research Station, Zvikomborero Farms and Michview Enterprises. The genes (F1s, F2s & F3s) will be available to goat producers via these institutions.
A consortium of non-governmental organisations have made delivery of high breed goats from Namibia in a bid to improve the country's genetics and marketing of the small stock.
A total of 224 goats, which comprised the Kalahari Red, Boer and Saneen breeds were delivered into the country from Namibia two weeks ago as part of the European Union funded Value Chain Alliance for Livestock Upgrading Empowerment (VALUE) project, which is run under the Zimbabwe Agricultural Growth Programme (ZAGP).

The four-year programme, which will end in 2023 is being implemented by Action Aid Zimbabwe as the lead organisation in partnership with COSV and Mercy Corps together with private sector livestock players namely Shamiso and Bradford farms in the pork value chain, Michview and Zvikomborero farms in the goat value chain.

The programme is being undertaken in six provinces namely Matabeleland South, Matabeleland North, Manicaland, Mashonaland Central, Mashonaland East and Mashonaland West.

The aim of the project is to improve the capacity of smallholder farmers especially women and youths to improve their goat and pig breeds, production and productivity, access to viable markets and organisational efficiencies.

In an interview with Sunday News Business just after the arrival of the goats at Matopo Research Institute from Namibia, Michview technical manager, Mr Lindani Ncube said the programme will play a big part towards improving the commercialisation of goats in the country.

"What we are basically doing is improving goat commercialisation in the country. As you have seen all along, people have not been commercialising the goat industry. So, we are coming in saying let's pull our socks, let's work together and improve goat farming as a business and you will notice that over 90 percent of the goats are kept by communal farmers, they are very few commercial farmers in this industry," he said.

Mr Ncube said the two integrators in the goat value chain namely Michview and Zvikomborero Farm are expected to cross-breed the goats from Namibia with indigenous breeds for improved genetics.

Michview is undertaking the programme in six districts in the Matabeleland region namely Beitbridge, Matobo, Lupane, Nkayi, Binga and Gwanda with Zvikomborero Farm overseeing the programme in six districts from Mashonaland East, Mashonaland Central and Manicaland provinces.

"We got goats from Namibia, which are for the two integrators to breed. They will cross these goats with the local indigenous goats like the Matabele goats . . . so that we get a better breed. The offsprings are the ones we will be selling to farmers . . . it's not that system of donating because if you donate something to someone every time, they don't take ownership. Each district will be having what we call the Goat Improvement Centre (GIC)," he said.

The setting up of the GICs is aimed at providing primary business support services including a demonstration farm offering hands-on training for goat farmers, a goat Breeding Service Unit in partnership with co-applicant integrators (Michview, Zvikomborero Farm, the Goat Breeders Association of Zimbabwe and Livestock Research Stations (Matopos, Grasslands, Henderson).

"We have got our anchor farmers in these districts which were selected by Government departments, Agritex (Agricultural, Technical and Extension Services) and Veterinary. These 1 000 anchor farmers will cascade support to approximately 9 000 farmers giving a total of 10 000 farmers in 12 districts," said Mr Ncube.

The programme would also see the establishment of 12 district-level Goat Producers Business Associations in the five provinces as well as two Goat Holding Centres at Grasslands and Matopos Research Institute for holding consolidated stocks of goats brought from district associations to enable abattoirs and supermarkets to buy goats in bulk.