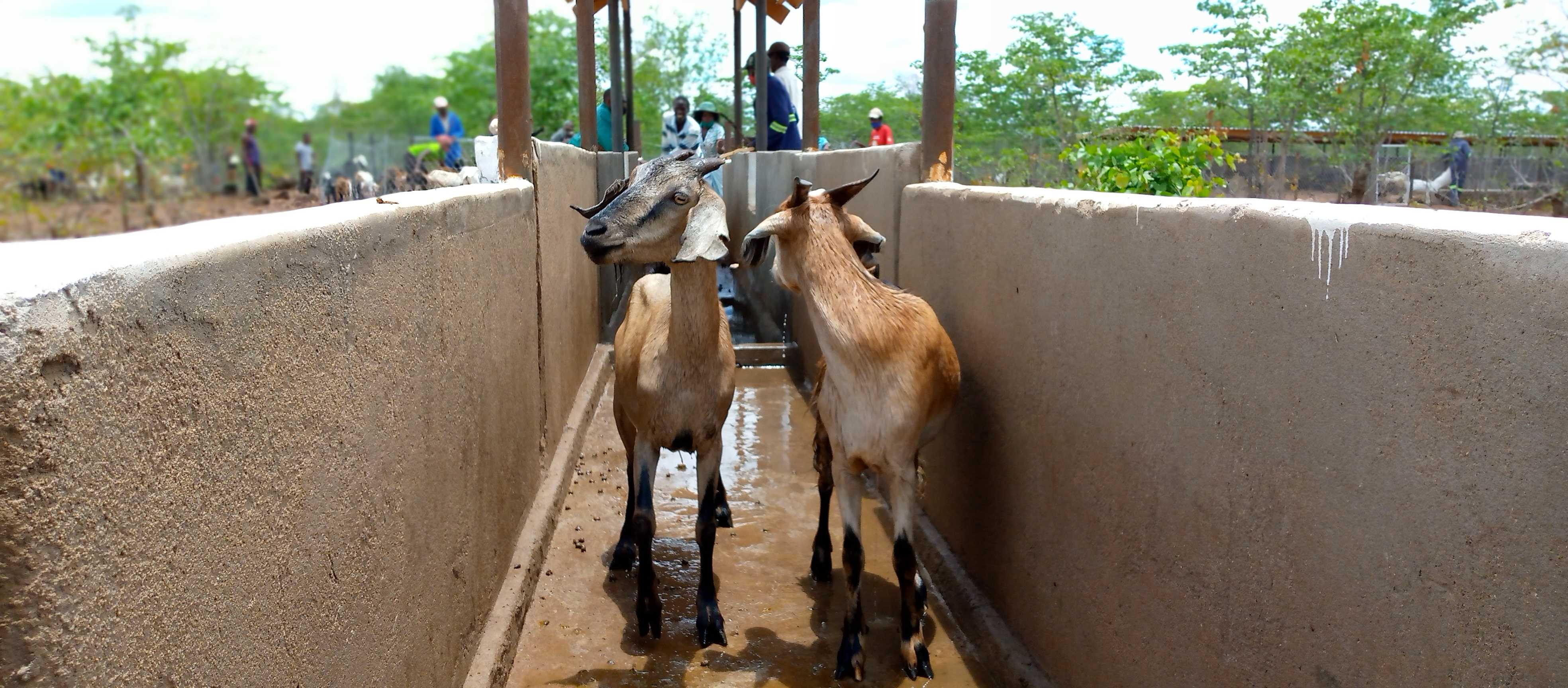 It was a hive of activity at the Lupane Goat Improvement Centre (GIC) on 11 November 2020, when the facility opened its doors to goat farmers in the district for the first time. The GIC is a facility where farmers get primary business support services which include plunge dipping, animal health products, aggregation facilities, breed improvement services, animal nutrition (fodder seeds and crops) as well as hands-on training on commercial goat farming.
The centre held its first dipping session with a total of 1643 goats being dipped on the day.
"Dipping is a game changer because the challenges we had with troublesome tick-borne diseases is
now a thing of the past," said Ochard Ncube one of the members of the Lupane District Goat Producers Business Association.
In addition to dipping their goats, farmers were able to procure drugs and vaccines locally when in the past they had to travel to Lupane town or Bulawayo which resulted in many of them foregoing vaccination and treating their goats.
"As an association, we are working closely with the Department of Veterinary Services to ensure that we maintain good health for our animals through provision of drugs and vaccines at competitive prices.
Farmers do not need to travel long distances to access drugs and vaccines," said Thulani Shoko, the Treasurer of the association.
With the financial support of the European Union, the project supplied the centre with breeding bucks of the boar type for breed improvement. Farmers wishing to have their does serviced will pay a fee which will be channelled back into maintaining the centre.
To address the challenges caused by high cost of goat feed, the centre has a half a hectare of fodder crops such as Lablab, Velvet bean and Sunhemp under solar powered drip irrigation.
"We sell fodder for the equivalent of USD1 per kilogram and fodder seed for USD1 per 500g." Tepi Ncube an association member.
There are more goat improvement centres in 11 other districts namely Nkayi, Binga, Matobo, Gwanda, Beitbridge, Mudzi, Rushinga, Mbire, Chikomba, Buhera and Chipinge.